Organic Gardener's Companion
Growing Vegetables in the West
by Jane Shellenberger
Fulcrum, 2012



This is a guide for growing organic produce specifically in the Rocky Mountains of Colorado, New Mexico, Wyoming and Montana and in the similarly semi-arid high altitude climates of Utah, Idaho, northern Arizona and eastern Oregon. Short growing seasons, thin soils and inclimate weather makes any kind of gardening a challenge; growing organically is even more of a test.



"I've gardened in the West without using chemicals or poisons for more than forty years," notes author Jane Shellenberger. "It's not difficult, but it helps to have a bit of education on the topic."

Shellenberger's lessons begin with a primer on Western climates and soils along with discussions on pollinators and nitrogen. She advises intrepid gardeners on selecting hardy cultivars, building soils, using beneficial insects and extending the growing season with raised beds, containers, row covers, cold frames and greenhouses. Much of the book concerns subjects of little interest to growers in gentler climes, but for the stubborn Westerner this is a reference as welcome as a timely rain.

---




---

Cool-Season Vegetables

While most Rocky Mountain gardeners wait until May and then plant their gardens all at once, Shellenberger says its possible to seed in mid-March with greens, onions, broccoli, beets and other cool-season veggies. These may be harvested before those other gardens are even planted.

"If you prepare your garden in the fall, you'll be ready to plant as soon as spring moisture arrives, and if you seed greens every three weeks or so you'll have an ongoing fresh harvest, at least until the intense summer heat hits in," she points out.

"Spring snows give seeds and plants the moisture they need to germinate and grow, and they actually provide insulation. Freezes are more likely when skies are clear; once the cloud cover disappears, temperatures can drop quickly. Unless conditions are rainy, water seeds twice a day with a fine spray until they germinate. Once they're up, you can give you can give young plants some added protection from the elements and the flea beatles by covering the bed with a layer of lightweight
floating row cover
. This will speed up their growth considerably."
---
Broccoli

Broccoli has grown well in every one of my Colorado gardens. It loves our high-altitude climate. As long as you plant it to mature when the temperature isn't too hot, and as long as the soil is well amended and doesn't dry out, broccoli is a winner on the plains and in the mountains.

I start seed for transplants inside in February for planting out in early to mid-April. I also direct seed in the garden in early to mid-March and add row cover, which helps warm things up. Depending on the weather and the flea beatles, which go after tender young plants, one or another variety will outperform the others, usually temporarily, which also usually staggers the harvest of the big heads.

---




---
Don't make the beginner's mistake I once did by pulling up the plants after you pick the main head, thinking the harvest is over. The small, delicious side shoots will keep coming for a month or more. If some heads or side shoot flower, cut them off to encourage more production, but if you don't get around to it, bees love the yellow flowers.
---
---
---

Gardener Harvesting Summer Vegetables from Raised Bed Vegetable Plots
---
Our most important job as vegetable gardeners is to feed and sustain soil life, often called the soil food web, beginning with the microbes. If we do this, our plants will thrive, we'll grow nutritious, healthy food, and our soil conditions will get better each year. This is what is meant by the adage "Feed the soil not the plants."
---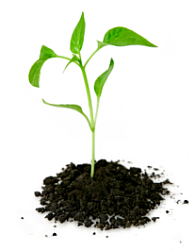 Seed, Plant, and Nursery Catalogs
---

Floating Row Cover
---

Organic Gardening Magazine
---
---
---
---